Parish Council News
For addiitonal information on any news item please contact the relevant councillor or the Parish Clerk - see contacts page
The development area shown on the website for the Wokingham Local Plan (http://www.planvu.co.uk/wbc/) is much smaller than was shown on the original map circulated.
We will be keeping a watching brief on the Wokingham Local Plan as it goes through its approval stages to ensure the green belt is protected.
We warmly welcome MJ Streather as our new parish clerk. You can contact MJ on This email address is being protected from spambots. You need JavaScript enabled to view it.
Campaign to Protect RuralWokingham - CPRW

I am very heartened by the support from the government in various statements that they intend to protect the Green Belt, which reinforces the stance on the NPPF (National Planning Policy Framework) which states "The Government attaches great importance to Green Belts. The fundamental aim of Green Belt policy is to prevent urban sprawl by keeping land permanently open; the essential characteristics of Green Belts are their openness and their permanence." It is the permanence which is the important feature.
We are doing well in our financial support, which is in the form of promises at the moment. However, we would welcome more funds.
Summary of issues raised/arising in the month.
(This document is not intended to be read as a record of the minutes of the Parish Council (PC) meeting.)
in this issue:
Ruscombe Development - Nature Reserve - Downfield Tip - Speedwatch - Travellers Site - Meetings - Football Field - Defibrilllators - Gullies - Allotments
Contact and shareGeneral queries or items of interest can be addressed to the Clerk at This email address is being protected from spambots. You need JavaScript enabled to view it. or to individual PC members via the email addresses shown at the back of this magazine. Items of interest can be shared on Facebook and Twitter via https://www.facebook.com/WalthamStLawrence/ and @WSL_RG10 Next Parish Council meeting is 5th December 2017, 7.00pm Neville Hall
The results from the referendum on the Hurley and the Walthams Neighbourhood Plan, held on 23rd November 2017, are 614 for, 114 against. Turnout was 16.1%
Four ways to keep in touch with Parish Council News
1 Parish Website
www.wsl.link/index.php/council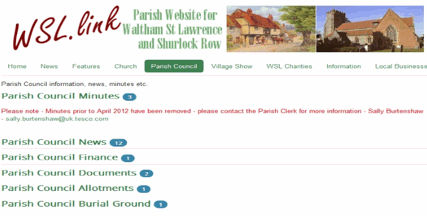 2 Twitter
@WSL_RG10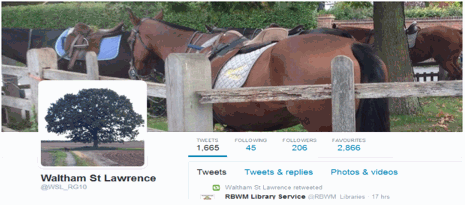 3 Facebook
www.facebook.com/WalthamStLawrencePC?fref=ts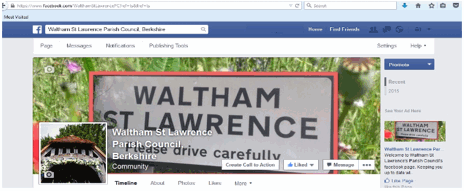 4 Parish Magazine