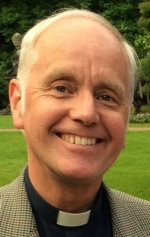 My Dear Friends
Four items of church news this month.
Elsewhere in this Lych Gate you'll find an advertisement for our Lent Brunch on 10 March at 11.15 am. As you will see, the idea, as well as having a sociable time together, is to raise money for a local charity, the Windsor Homeless Group. If in the self-denying spirit of Lent you come prepared for a simple meal but contribute as though it were a rather splendid one, we should have a useful surplus to pass on. Hope to see you there!
Read on for: Church support for charities , Electoral roll update, Celebration of Gifts and Talents
 Many churches have a policy of giving away a proportion of their income to 'outside causes'. Christians are often exhorted to give a percentage of their personal income, so this is a way of the church as a whole 'practising what it preaches'. It's also a good way to avoid becoming inward-looking and to remind ourselves that we and our local needs are just part of a much bigger picture in terms of the worldwide church and more generally.
After much discussion last year, our own PCC decided that in 2019 we would give away 5% of our regular income (that is, our normal collections, planned giving, Gift Aid recovered, investment income, and the PCC's share of wedding and funeral fees). The money will be divided equally between two causes, one global and the other local.
Half will go to the Church Mission Society. CMS was founded in 1799, one of the founding members being William Wilberforce. Today it works in 39 countries across Africa, Asia, Europe, the Middle East and Latin America. Their call is "to see people set free to play their part in the mission of God", and their key goals are renewal, transformation, flourishing and healing.
The other half will go to Yeldall Manor. Located at Hare Hatch, this is a rehabilitation centre for men, based on Christian values. Their strapline is "recovery for life", and there are many inspiring testimonies of those whose lives have been rescued from addiction or other crises, some of whom have found Christian faith in the process. Every penny given is put to good use in this excellent cause.
Both CMS and Yeldall Manor are registered charities.
Under Church of England rules, the church electoral roll (basically, the membership list) of every parish has to be renewed every 6 years, and yes, you guessed it! – 2019 is a renewal year. This means that everyone who wants to be on the roll has to re-apply, however long or short a time they've been on it. Simplifying a bit, you're entitled to be on the roll if you're over 16 and have been baptized, and either live in the parish or habitually worship here.
The renewal is happening between 24 February and 7 April, and all those already on the roll will be invited to renew, unless we know they have moved away and no longer come; but of course it's open to others as well, and I would particularly encourage all those who attend church regularly to apply. If you are on the roll you can stand for office and vote in church elections, and it also helps us to keep in touch with you. In addition, I use the electoral roll as my prayer list, so if you're on it, I will be praying for you at least once a fortnight. There's an offer for you! Application forms will be available in church if one is not delivered to you.
Harsha Mason is our Electoral Roll Officer, and she will be happy to answer any questions. 0118 934 1054 This email address is being protected from spambots. You need JavaScript enabled to view it.
The service for the celebration of gifts and talents which was postponed last month has now been rescheduled for Sunday 5 May at 10 am. Everybody is of course welcome, and we plan to send out a personal invitation to anyone who we are aware has any kind of active connection with the life of the village church.
Your sincere friend and Vicar,
Charles Mason