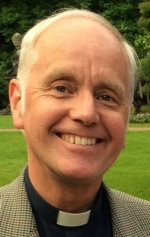 My Dear Friends
We live in a world that doesn't seem to know what it thinks about secrecy and disclosure, privacy and openness.  The very vocabulary we use can be emotive: whereas 'transparency' is applauded, 'revealing sensitive information' is frowned upon; 'whistle blowing' is brave, but 'betrayal' is disgraceful; 'rigorous investigation' is what we want the police to do, but 'invasion of (our) privacy' is another matter. (If you watched the ITV documentary about Sir Cliff Richard on 10 December, you'll know how very strongly he feels about this!)
People have different and sometimes ambivalent attitudes towards CCTV cameras, internet 'cookies', DBS 'safeguarding checks' for those working with children or vulnerable adults, stop and search powers, the GDPR introduced last May, access to their own medical records and credit references, whether surgeons should have to publish their 'success rates'… the list is almost endless.
In trying to work out my own stance on such matters where they touch me personally, part of me simply wants to say that as it's so very difficult to keep anything secret these days, and pro-privacy legislation seems to be largely unenforceable, we may as well learn to live with the fact that people can pretty well find out all they want to about us whether we like it or not.  But I think it's also possible to develop a 'Christian take' on all this.
If we call ourselves Christians, first of all let's not be furtive.  We know that all our deeds, words and even thoughts are open to God.  We say in the Holy Communion service: "Almighty God, to whom all hearts are open, all desires known, and from whom no secrets are hidden…", and Hebrews 4.13 states even more starkly: "No creature is hidden from [God's] sight, but all are naked and exposed to the eyes of him to whom we must give account."  Positively, we want our whole lives to be able to bear scrutiny, so that they may bring glory to Jesus whom we profess to follow.  As Paul puts it in 2 Corinthians 5.11: "What we are is known to God, and I hope it is known also to your conscience."  We don't need to go around telling people everything about ourselves (we'll almost certainly bore them if we do!), but as Christians we should be people who have nothing to hide.
Secondly, let's not be inquisitive.  In 2 Thessalonians 3.11, Paul rebukes some who "…walk in idleness, not busy at work, but busybodies", and similarly in 1 Timothy 5.13 he has in his sights idlers, gossips and busybodies.  The Christian should be a patient and sympathetic listener, whose speech is always "gracious, seasoned with salt" (Colossians 4.6), but who does not make it his or her business to delve into other people's personal lives.  Because we're all still so far from perfect, what starts as idle and (we tell ourselves) harmless curiosity can all too easily become a desire to find something negative or shameful about others to give us power over them and make us feel better about ourselves.  Let's not go there!
> The Choir: you may or may not be aware that our regular Sunday choir is now down to just three members, and this means that until we can recruit new singers the musical part of our worship has had to be scaled back. Please do read Simon Shaw's appeal "Singers Wanted!" elsewhere in this Lych Gate and take action if you possibly can. I for one would be delighted to see those choir stalls full again, so come on – help make it happen! Thank you so much.
> Regarding the service for the celebration of gifts and talents planned for 6 January which I mentioned in my letter last month, we have decided for a number of reasons to postpone this until later in the year. There will be plenty of advance notice of the new date.
Your sincere friend and Vicar
Charles Mason